by HML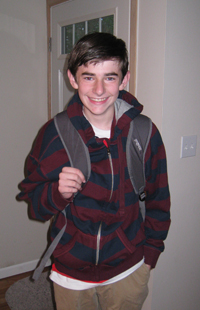 Our family's third generation of Roughriders has begun:  Thing One started high school this week.  We've been swamped with homework (Thing One) paperwork (his parents), writing checks and buying supplies (also his parents) ever since.  In addition to the usual basic subjects, he'll continue to learn French and play the cello in the concert orchestra.
On the shopping list was an upgrade to the full-size cello rental, and new shoes to replace the pair we bought at the beginning of the summer, which he has since outgrown. (!)  We hope this pair will last at least until Christmas.
A Court of Honor was also on the schedule this week, where Thing One received eleven merit badges and his religious On My Honor award.  He has now earned all the merit badges required for Eagle, and has begun work on his Eagle project.  It's very exciting to be so close, but it's not done yet; support and encouragement from family and friends (and a weekend work party to be scheduled later this fall) will help Thing One finish the journey.
If you're searching through the blog archives muttering, "But didn't he just start middle school?" the answer is Yes.  We still can't quite believe that we're to this point already, because that means that (1) our little Thing One is a not-so-little-and-still-growing teenager; (2) a driver's license, college, and a mission are all going to be here before we know it, too; and worst of all:  (3) we are now officially old fogies, not the twentysomething newlyweds we were last week, or so it seems.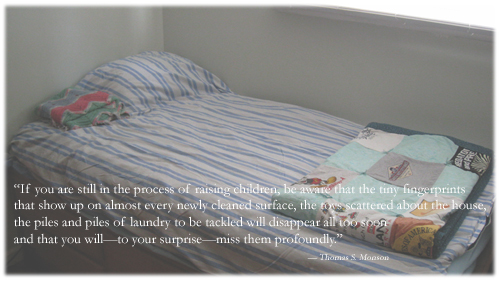 Here's Thing One's bed, (fairly) neatly made.*  This is how it looked for nearly the entire summer, as he was away at youth conference, then NYLT, then we were all at Philmont, then Thing One left again for Camp Parsons, Camp Pigott, and WashJam.  Next summer is already filling up with the National Jamboree, Camp Parsons, and the possibility of NYLT staff and a trip back to Philmont for a NAYLE session.  As for now, The Gimlet has commented how odd it is to drop Thing One off at seminary at 6:00 am and expect him to work his way through his day without any help from parents.  Although parenting has often been described as a process by which we give our children roots and wings, to actually arrive at the stage where we watch our oldest begin to test his wings is an exciting, poignant, and reflective time.  His room stays neat now, but more often than not, it's empty.
"Finding Joy in the Journey" by Thomas S. Monson (Ensign, November 2008)
With a ten-year gap between Things as our perspective, we can attest that there is much to enjoy and look forward to at every age.
The Value of the Eagle Scout Award and Eagle Scout testimonials:  How does it feel to earn the Eagle Scout rank?  What kept you striving toward Eagle?  What did you learn from becoming an Eagle Scout? Watch these and more short videos from the National Eagle Scout Association.
* A certain reader from Tulsa will notice that the afghan she made as a baby gift for Thing One is still in use!  (Although he doesn't take it to scout camp.)  It's looking quite ragged around the edges these days, but he still wraps up in it to read or watch TV.
Related posts:
Tags:
school