by The Gimlet
Editor's Note: After finding a Seattle Historical Hike report on kitsapscouts.com, The Gimlet thought it would be fun for our scout troop and cub scout pack to do the hike as well:  after all, this is our city!  The older scouts would like to earn their Hiking and Backpacking merit badges this year and get in shape for longer summer backpacking trips; to that end, they planned to extend the historic hike beyond its end at the Center for Wooden Boats to a ten mile hike, ending at Woodland Park in North Seattle.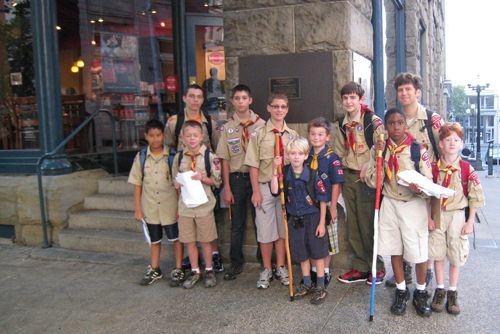 At 8:15 Saturday morning we got on the express bus to downtown Seattle.  About half the troop rode the one bus.  We arrived about 8:40 which was 10 minutes late and met with the rest of our troop.  Our guests were an Eagle Scout father, his Scout son, and Cub son.   In total we were eight Scouts, two Cubs, and three adults.   We were all eager to get started.  The Scouts who were working on their 2nd Class rank advancement showed me how to orient the map and then we were off.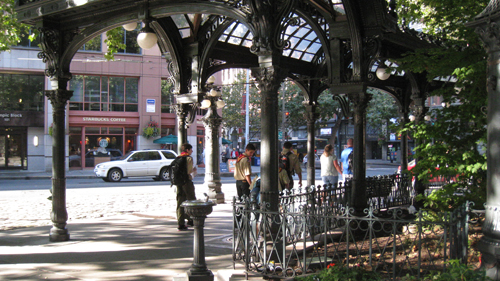 The Seattle Historical Hike is like a scavenger hunt while hiking.  We found almost every question's answer on the list but also discovered that in a living city things can change.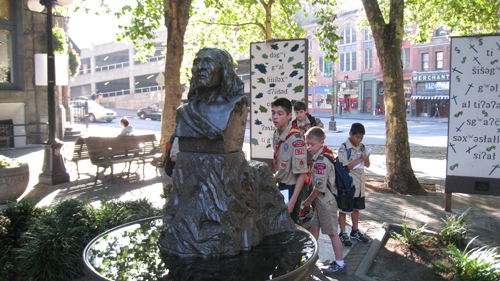 There are a couple of changes that have occurred that should be noted.  First, the Klondike Gold Rush National Historical Park moved four years ago from where the hike map indicates it is (Question 13).  Since all the adults remembered going to it at its old location we were "a mite bewildered" for a little while.  (The ranger commented, "How often do you hear of a National Park moving?")  Next, four months ago the WAWONA at the Center for Wooden Boats was turned into what it was designed to carry. (Question 37, cheater answer: Lumber)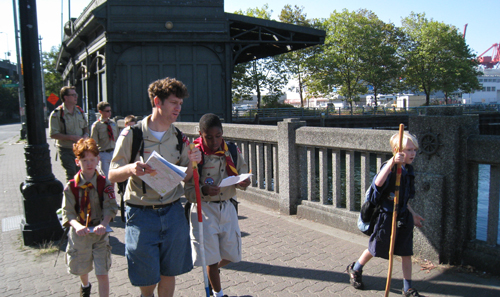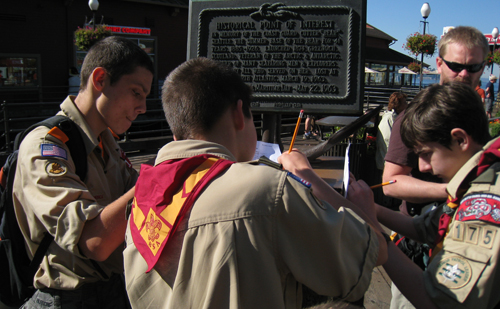 The time spent on the historical portion of our hike was exciting and entertaining.  The older Scouts ahead took a break when they liked by, for example, diving into a McDonalds at the ferry terminal on the waterfront.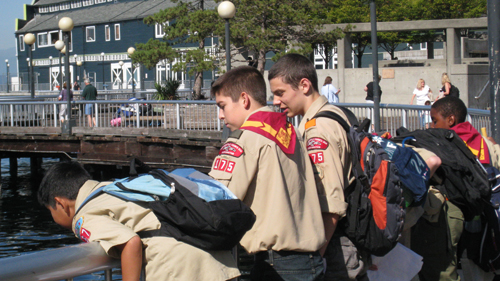 One of our chartering organization representatives had planned to join us during the hike, but illness prevented that.  As he lives downtown, we called him on a cell phone from between Hammering Man's legs, waved up at his condo, and his wife waved back to us.  Later, he emailed The Gimlet:
You guys really made my day on Saturday!  It was a literal thrill to see good ol' Troop 175 marching across First Avenue at University Street.  It was fun, too, to see the heads of the passersby turning to do a double-take at the sight of a Boy Scout Troop parading through the downtown core.  I'm so sorry I couldn't join you, but WELL DONE!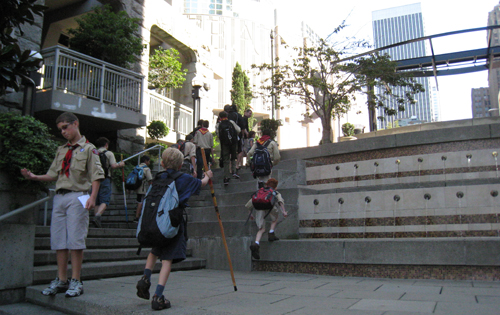 It was a beautiful warm day, perfect for walking through the city.  After finishing up the historic hike at the Center for Wooden Boats, we continued on to Greenlake to make the hike a ten miler, qualifying for the merit badge (and meeting the hike requirement for our scouts working on their 2nd Class rank).   We hiked along the west side of Lake Union and crossed the cut on the Fremont bridge.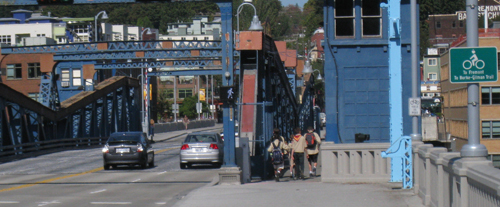 After a quick picture at "Waiting for the Interurban" and finding that no railcar was coming (or had for at least fifty years) we walked up the hill to Woodland Park.  A short walk (but not a quick one; nothing was really quick at this point as everyone was tired and had sore feet) to Kidd Valley for lunch followed by a quick visit with the Western Washington Eagle Scout Association at their barbeque finished up our hike.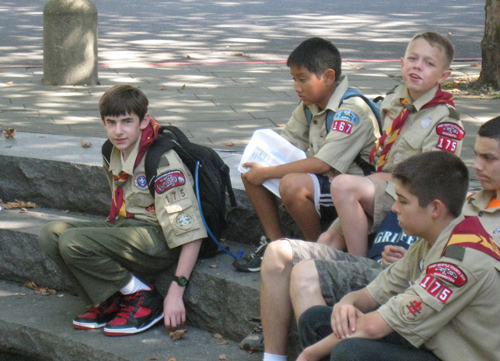 Wearing uniforms as the hike plan requires resulted in being noticed and smiled at a lot.  An old Scoutmaster asked where the troop was from and we noted that we were from the north end of Seattle.  A tourist from Australia asked us how to find Pike Place Market.  Along the waterfront we were pointed out by fathers to their young sons.   As we walked past the cruise ship terminal our parade of uniformed Scouts turned a lot of heads. In Denny Park a man walking with his wife held out the Scout Sign and said, "This is how to do it."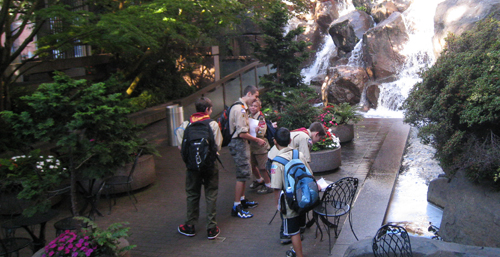 I don't know if the Scouts noticed all the looks; if they did they may not have liked it, but I could see the well wishes in the vast majority of those looks.   I do know that the people working at the Solstice Parade offices noticed that a bunch of Scouts were walking by because they said so.  We stood out in Fremont!  That is saying something.  In a sense, seeing Scouts in public, in uniform, is a reminder of the better America we dream of.  Seeing it on Seattle's waterfront reminds everyone that the better America we dream of can be anywhere, any time.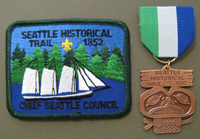 All the Scouts did wonderfully on the hike.  We even had one "Iron Cub" keep up on the full ten miles with the big guys.  A couple of the older Scouts (including Thing One) have already turned in their 200 word essays required for the medal.  All the Scouts who participated in the hike have already earned the patch.
It was a great trip.  We all had fun and learned a lot about Seattle.  I just wish I could keep one of those cool medals for myself!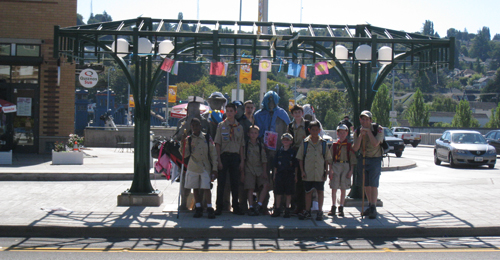 Related posts:
Tags:
hike
,
local fun
,
national parks
,
scout outings