by Thing One
See Thing One's NAYLE photo album in the Gimlet Gallery.
An overview of the NAYLE program from the official web site:
The National Advanced Youth Leadership Experience (NAYLE) is an exciting program where youth enhance their leadership skills in the Philmont Backcountry. Scouts will expand upon the team building and ethical decision making skills learned in National Youth Leadership Training (NYLT). NAYLE uses elements of the Philmont Ranger Training as well as advanced Search and Rescue skills to teach leadership, teamwork and the lessons of selfless service. NAYLE will offer Scouts an unforgettable backcountry wilderness experience where they live leadership and teamwork, using the core elements of NYLT to make their leadership skills intuitive.

NAYLE will equip youth leaders to be better leaders, NYLT staff members and/or superior camp staff. It will help guide their journey to become true "servant leaders," able to develop all members of whichever team they lead. It provides life skills for now and the future.
On Friday, June 25, I flew on a plane from Seattle to Albuquerque.  The Saturday flight from Seattle to Albuquerque would have been too late for the Philmont shuttle so I had to arrive a day early instead. I stayed at the house of a friend from my last Philmont Trek.  We hung out, went to Chili's and watched movies.  On Saturday we had lunch at Dion's Pizza in Albuquerque, and then I went back to the airport to take the shuttle to Philmont.
About eight other people rode on the shuttle, and we watched the movie Dodge Ball. The trip to Philmont took about four hours. Half of the people came on Saturday, and the rest arrived Sunday morning.  Everybody was either from Indiana or Texas, with sizable minorities from California and Minnesota.  Saturday night we stayed at Base Camp, ate dinner at the Philmont Training Center (PTC) cafeteria and there was a cracker barrel later in the evening.  At dinner I was recognized by one of my dad's friends who was attending the LDS week at the PTC.
Sunday we toured the Villa Philmonte, the home of Philmont founder Waite Phillips. We also learned a lot of history about Philmont and Waite Phillips. NAYLE is like a Venturing contingent, not a scout troop, so we were assigned into crews.
I was in the Urraca crew, named after Urraca Mesa (Spanish for magpie). We then moved to Rocky Mountain Scout Camp, where we would spend the rest of the week. At different points of the day a black bear, named Blondie, was seen in Rocky Mountain Scout Camp.  We had to store our "smellables" (like food and soap) in bear bags so the bears and other animals wouldn't eat them at night.  At NAYLE we had regular Philmont trek food, such as sun butter, pro bars, Gatorade powder, and Mountain House dinners, though occasionally there was fresh food like cantaloupe, and bananas. Like in NYLT, we made the dinners by ourselves.  We attended an interfaith service and that evening was an opening ceremony.
Monday was the Challenging Outdoor Personal Experience (COPE). We did many different teamwork related obstacle courses, like trying to get everybody over a wall that you can't climb alone. Then the NAYLE Staff explained that the activity was about learning about each other's strengths and weaknesses to build a successful team. I saw Blondie again, and it went through campsites and it broke a bowl that was in our camp. Fortunately that was all that the bear destroyed.  We didn't see the bear for the rest of the week, but we saw lots of squirrels and deer.
Tuesday morning's activity was Geocaching, where each crew used a GPS to find different locations.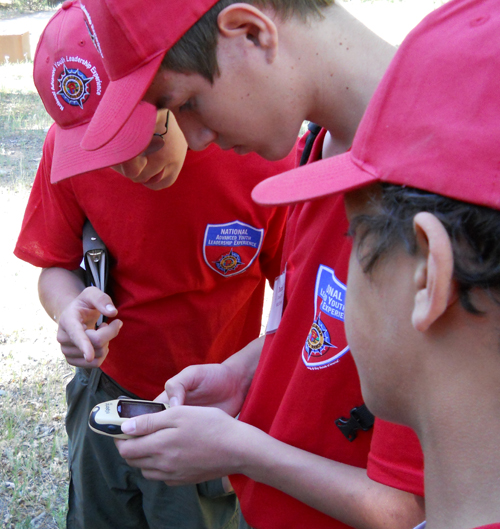 At each location there were items like squished pennies and leave no trace cards, and each of the GPS coordinates was a set of lock combinations for a locked box at the end.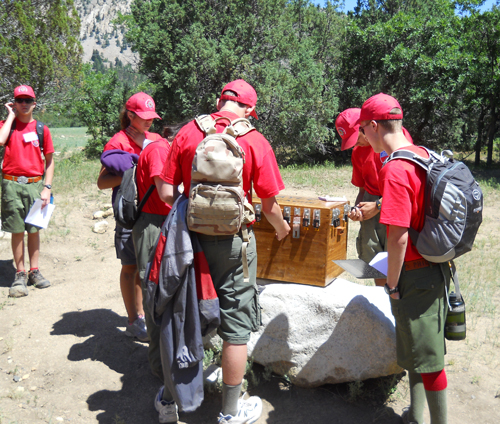 My crew was the first to get mostly done, and after waiting for all the other crews to come back, and then finding the other coordinates that nobody found, we eventually were able to open the box which had a cooler full of root beer cans for everybody! Then everybody did a discussion in their crews about the activity.   We learned about how to use equipment like walkie-talkies and GPS, and we learned about Waite Philips' history along the way because at every GPS location there was something to learn about Waite Philips and leadership.
Then we did realistic first aid, and we made fake wounds on our crew guides.
Each crew went to different stations and we helped stabilize staff members that were acting out different injuries like heatstroke, cutting their hand with a rusty saw, and breaking their leg and falling in cold water. We learned about how to stabilize an injured person in the woods before the paramedics come.  We only killed one of the staff members, the one who was struck by lightning, and there were other patrols who killed him, too, so it wasn't just us. When we went back to our campsite, there were more staff members doing realistic first aid. Later, another participant actually got his arm cut, and needed 6 stitches from the Base Health Lodge before coming back to NAYLE.
That day I got a package of cookies from home, and the staff teased me, saying that I couldn't have the package because it was smellable. Nobody else got a package of food in the mail, so everybody in my crew enjoyed having me share the cookies.
On Wednesday everybody hiked to Lovers' Leap camp, which is near Rocky Mountain Scout camp. The Urraca crew broke the all time record for speed when hiking down to Lovers' Leap camp. There was a campfire at night, where each crew did a historical skit about the place where their crew was named after (the crews were Urraca, Cimmaroncito, Rayado, Miranda and Anasazi) and Urraca did "random acts of skit" which had each of the activities Urraca camp was used for (Astronomy, Wilderness Survival, Search and Rescue, The Urraca Challenge, and bow hunting). Most of the other participants said they liked ours the best.  We spent the night at Lovers' Leap camp.
Thursday morning we learned about Search and Rescue.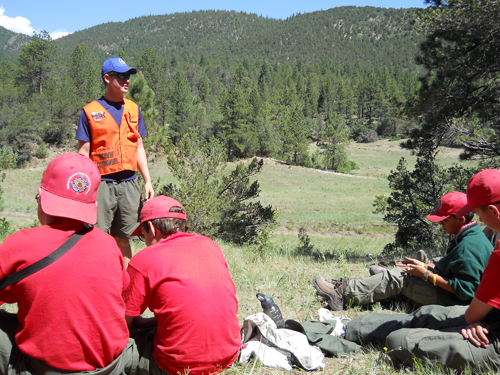 Each crew was assigned a different pair of lost people on the Lovers' Leap Trail.  We were told that somebody was lost, were given a description of what they looked like and what they had with them.  We used the Search and Rescue method and picked up clues along the way to find our lost people.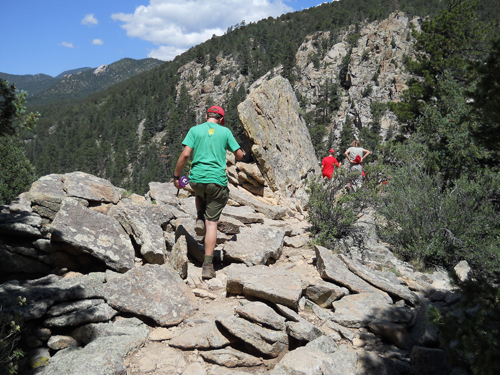 When we found them we used our first aid skills to get them ready to get out of the backcountry. Then we got to hike to Lovers' Leap, took pictures and then went back to camp.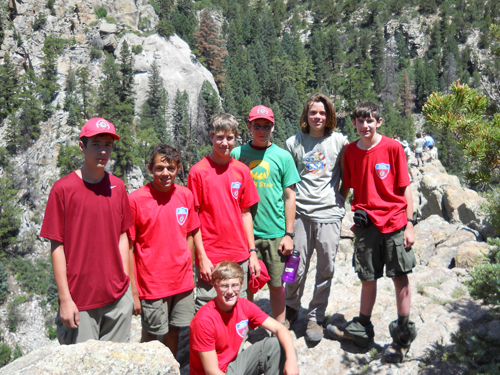 That afternoon we built part of a trail near Rocky Mountain Scout Camp as a service project.   We removed rocks and roots and created the trail grade on a switchback.  I learned that creating a trail is a lot of hard work, and it made me appreciate the work that has been done to make the trails I have hiked on.  Then there was belt branding, where I had my belt branded on the inside to say 'NAYLE' and 'Urraca '10' and my NAYLE notebook to have 'NAYLE' and the two Philmont brands.
Friday we woke up at 5:30 AM and hiked the short way up to the Tooth of Time (Urraca did it in a little over 1 hour!).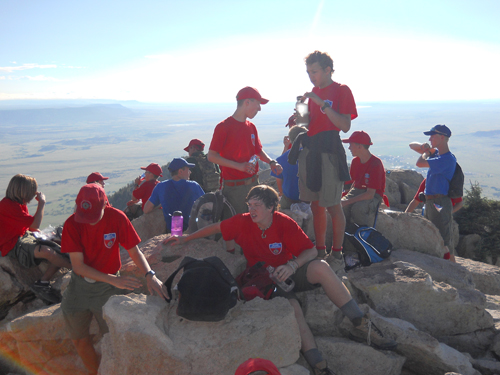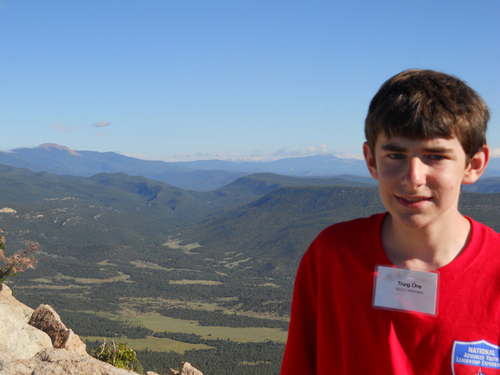 Then we did a historical tour of Cimmaron, went into the Cimmaron museum, and then almost everybody went to Simple Simon's Pizza, which is very good. There was a knife store which I did not go into, but an old fashioned ice cream place/art gallery gave all the NAYLE participants free ice cream if they had their uniform on, so I had an ice cream. Then we went to Philmont base, and in the Tooth of Time Traders trading post. I bought souvenirs there and even met one of my Philmont trek Rangers from last year.
When we got back to Rocky Mountain Scout Camp, the crews competed in an Iron Chef Competition, where we were given ingredients and had to make three dishes, and all three dishes had to have celery in them.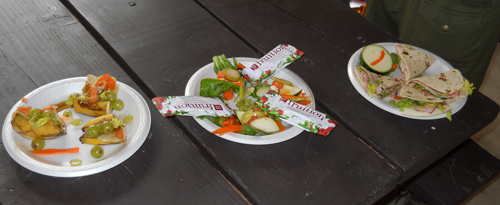 The Urraca patrol made one of the judges (our crew guide) throw up (Not from our cooking, but by making him laugh!). At night we had the closing ceremony.
Saturday morning at 5:30 am, the shuttle to Denver, Colorado left. My shuttle to Albuquerque left at 7:00 am, and arrived at the airport at 10:00 am, so I hung out at the airport with the other NAYLE people until my flight left at 5:10 pm.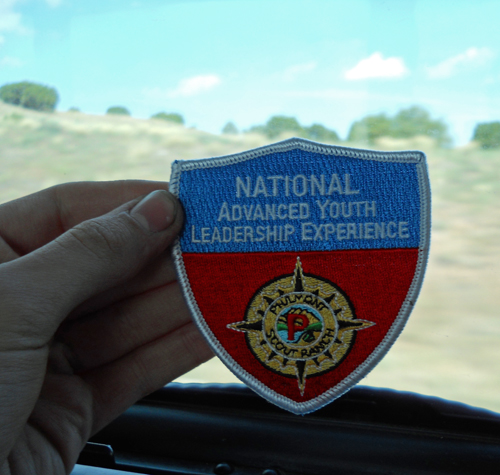 The NAYLE course was fun because I met new people (I'm looking forward to seeing my new friends at the jamboree), I now know more about leadership and I will be able to staff NYLT better.  My favorite activities were COPE and realistic first aid.  I liked performing in the Urraca skit and I liked the cracker barrels every night.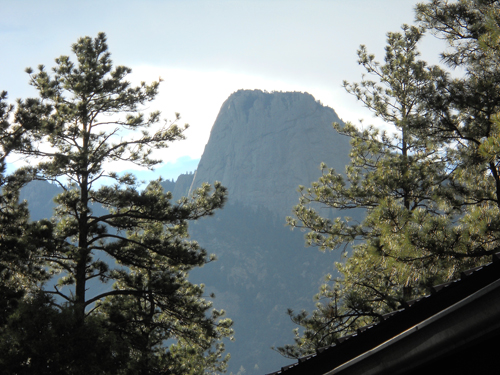 To be eligible to attend NAYLE, Thing One had to serve in a leadership position in our troop, complete Troop Leader Training, and complete National Youth Leader Training (NYLT) in the Chief Seattle Council.
Related posts:
Tags:
NAYLE
,
new mexico
,
philmont