by HML
This summer Thing Two started to collect Lego minifigures.  For those who haven't seen these yet, Lego has come up with sets of sixteen unique minifigures, individually wrapped in opaque packages.  Like the packs of Star Wars cards back in the day, these goodies pack both a cool minifigure and the thrill of mystery.  We like ThinkGeek's name for these mystery treats: Schrödinger's collectible.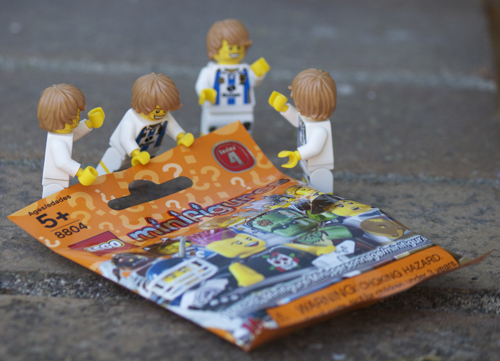 That said, after a run of bad luck with the random choice, resulting in a soccer team, an artist colony and not much else, we wondered if there were some way to stop choosing artists and soccer players.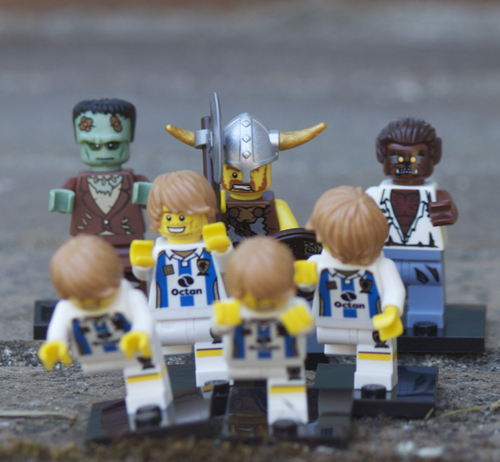 The very helpful folks at Math N Stuff guided us through the art of detecting each minifigure's unique pieces inside the bag, which has worked almost perfectly.  (One notable recent incident we were sure we had found a figure we didn't already have, but when we opened the bag, we found … a soccer player.)
If scrunching the packages isn't good enough (or if you are looking for any excuse to play with a smartphone), yes, there is an app for that.  Mini Collector uses a combination of bar and dot codes to detect which minifigure is in the package.
We like Mini Collector because not only can we keep an inventory of the minifigures we already own, but then if the app detects a minifigure we don't have, you can opt to keep its identity a secret, and preserve the excitement of the surprise.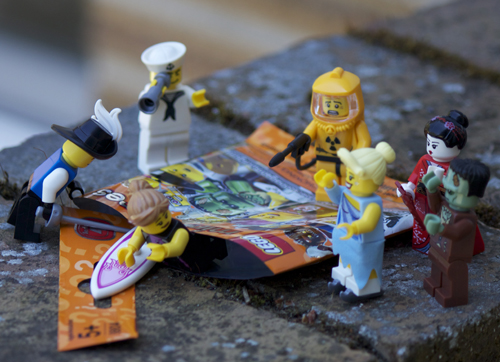 Mini Collector is free to download and the support for the first three series of minifigures is included.  Series 4 (currently in our local stores) and Series 5 (coming soon) can be unlocked for $0.99 and $1.99 respectively.  We love The Oatmeal's take on buying apps because we too are guilty of spending an unholy sum for our iGadgets, then balking at paying a whopping $1 for an app. (N.B.:  Depending on your family, The Oatmeal's content is not entirely family-friendly; consider yourself warned.)
After seeing his big brother at work, Thing Two set up his own Trading Post in his room, complete with an open/closed sign which he carefully turns at bedtime and when he returns from preschool.  Unlike other trading posts, the customer may choose a minifigure, but the storekeeper both assembles and keeps it.  Thing One may have to teach him a few lessons in customer service.
Related posts:
Tags:
geekery