by HML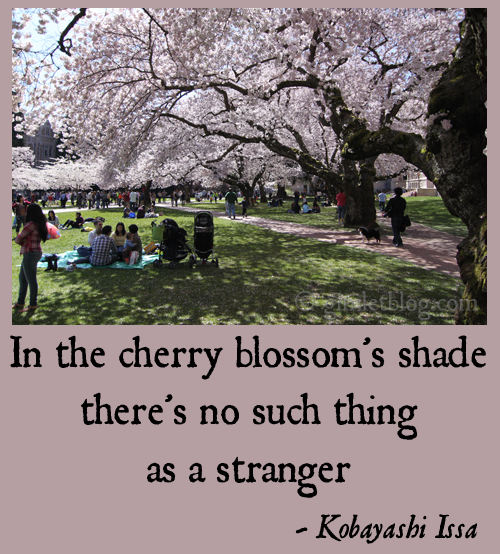 After last year's spring never came, these occasional sunny days are irresistible.  Happily, they are becoming more and more frequent, so we may enjoy a real spring this year.  In all the years we've lived in Seattle and spent time on the University of Washington campus, we've never deliberately made the trip to see the Quad's famous cherry blossoms … until today.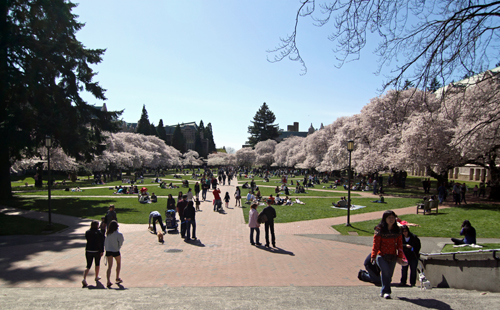 It was a glorious day to be out in the Quad.  Incredibly crowded and busy, with plenty of people-watching to do.  Lots of engagement shots, family pictures and just picturesque scenery meant there was a lot of camera gear to check out as well.  While watching the world go by, part of the world looked especially familiar:  friends from our church ward several years ago had made a day trip to the city and just happened to walk past us!  We keep in touch on Facebook, but it was so fun to see them again.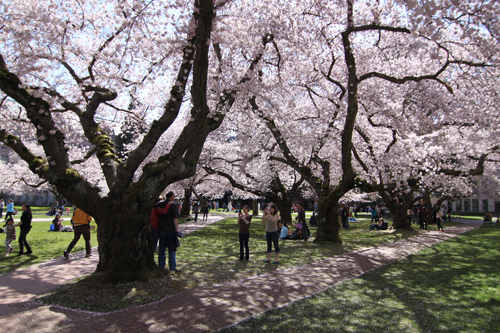 After taking pictures of the cherry blossoms, we decided to wander through Red Square to Rainier Vista to see if Drumheller Fountain was on.  The fountain wasn't on, but we found something better:  a supercar show was taking place in Red Square.  Team Gimlet are huge Top Gear fans, so this was a real treat to see so many of the cars which have been featured on the show.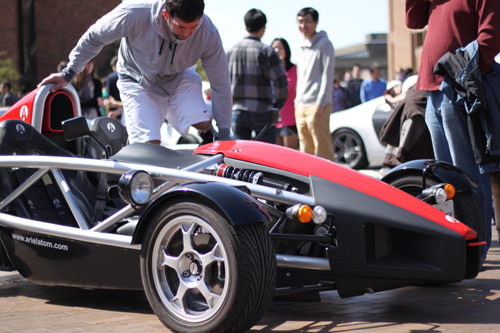 The Gimlet and Thing One quickly headed off to look at their favorites (the Aston Martins, the Lamborghinis and the Ferraris) while Your Humble Narrator and Thing Two stopped to geek out over examine the Ariel Atom.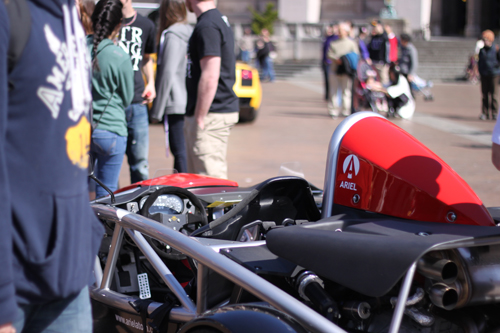 And then the Atom's owner asked Thing Two if he'd like to sit in it!
Thing Two is less like The Stig and more of a Captain Slow, but he was pretty pleased to be in the driver's seat, checking out the instrument panel.
He doesn't realize that his entire automotive experience has now peaked at age six.  Sorry, Thing Two, it's not going to get better than this.
Sunshine, sakura, serendipity and supercars all combined to create a wonderful Saturday afternoon.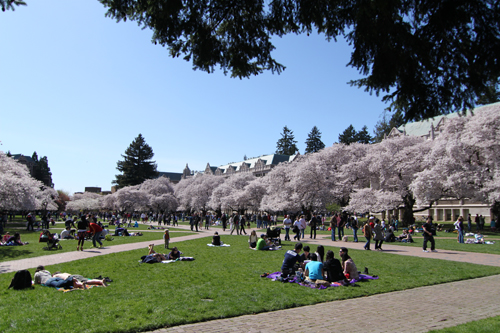 Related posts:
Tags:
local fun