Saturday, December 7th, 2013 by HML
The Festivals of Light is an annual Seattle Children's Museum exhibit which explores winter holiday traditions and celebrations from cultures around the world.  Children explore the food, decorations, games, activities and music associated with each holiday.  They have the opportunity to do crafts and read books associated with the different festivals.  This season, the museum explores the traditions of Diwali, Hanukkah, Santa Lucia, Los Posadas, Christmas around the world, Kwanzaa, and the Lunar New Year.
The Seattle Lilla Spelmanslag was given the opportunity to participate in the Santa Lucia exploration.  About half of the Lilla Lag were committed to attending ScanFair in Portland that weekend, but six fiddlers, including Thing Two, represented the group in Seattle.
Our weather has been sunny and chilly for the past few weeks.  We've been bringing in the hummingbird feeder at night so it doesn't freeze, and every morning a little hummingbird patiently waits on a branch by the feeder for its warm breakfast.  Thing Two was a good sport to stand outside in the 21 degree morning to pose for pictures in his festdrakt and overcoat.
The navy peacoat is a much beloved hand-me-down from Cousin K to Thing One, and this is most likely the last winter it will fit Thing Two.   It's a little small, but it suits the festdrakt so well that I couldn't resist pairing them together, plus Thing Two would need something warm to wear on the walk across Seattle Center to the museum.  When I told him he looked like he had stepped out of the 19th century, he said, "People must have been very cold in the 19th century."
On this Saturday morning, the Seattle Center was bustling with a variety of Winterfest activities.  On our way to the museum we passed families carrying ice skates for the rink, watched the model trains in the Winter Village, and saw brief bits of a few other youth performance groups while we waited for the show time downstairs in the Children's Museum.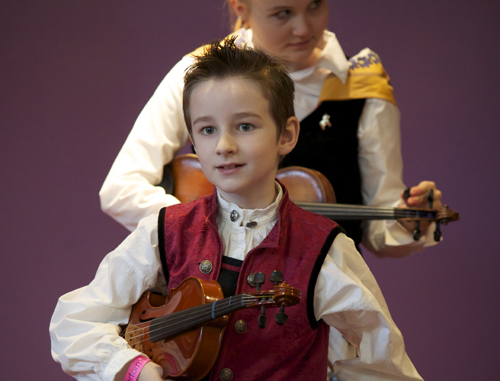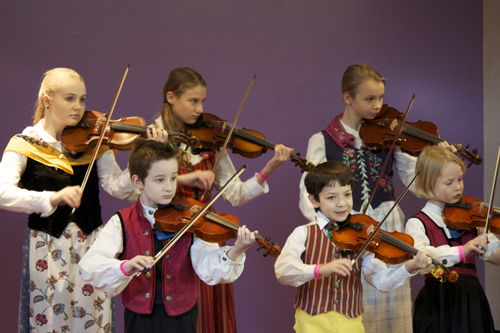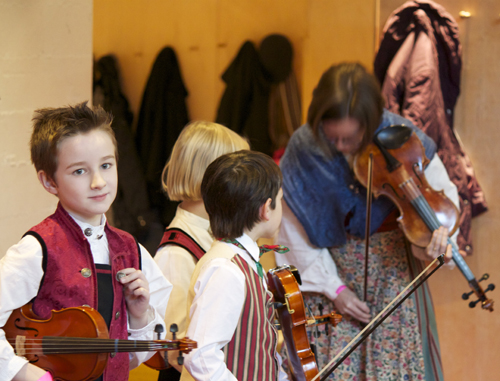 Most of the museum patrons are very small children with short attention spans, so the Lilla Lag shared Nordic music with the children through two thirty-minute concerts, with many opportunities for clapping, jumping, and dancing.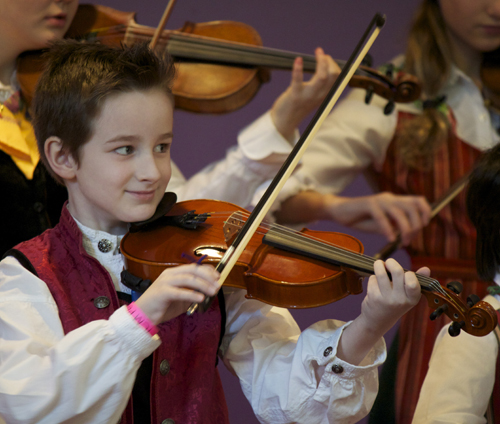 After the concerts it was time for an obligatory photo session under the Space Needle.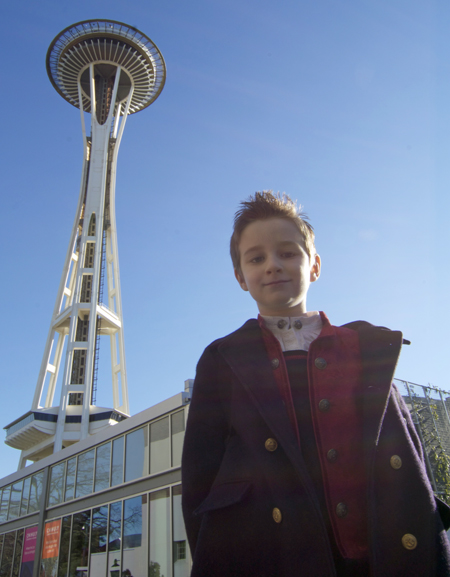 Blue steel!    It was noon, but still cold.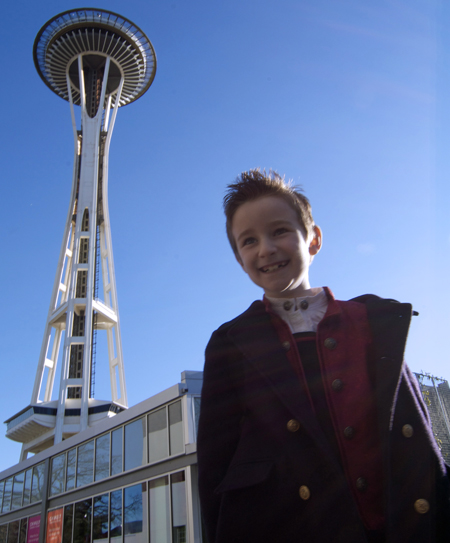 Thing Two had a great time at the concerts and enjoyed playing all the tunes.  The little ones and their families loved the music, too.
Related posts: