Sunday, January 27th, 2013 by HML
The time has come for Thing Two to move from a 1/4 size violin to a 1/2 size.  Now that he can play a few tunes and is learning what he likes and doesn't like about particular instruments and bows, the sizing up process has been a little more complicated.  We took home two violins and three bows on a limited trial basis over the holidays, but for various reasons none were quite right.
At the beginning of the process, Thing Two teared up at the thought that his 1/4 size violin would be returning to the violin shop.  He said, "My violin is like my friend, and I can't send my friend away!  I'll miss it, and it will miss me!"  Fortunately as he has spent more time with the 1/2 size violins, he has grown used to their size and the smaller violin feels more like a toy, as he describes it.
We found a 1/2 size violin of the appropriate make and model on Craigslist and set out to look it over.  Our visit was everything one could hope for from Craigslist:  a journey across town in the dark of night to a neighborhood best left unvisited in the dark of night.  When we found the address on a dead-end street, we parked behind the hearse in the driveway, climbed a steep flight of stairs through a garden populated by broken statuary (an unnerving experience for Whovians), to a tiny front room packed with a dizzying array of tchotchkes and of reeking of incense and other substances.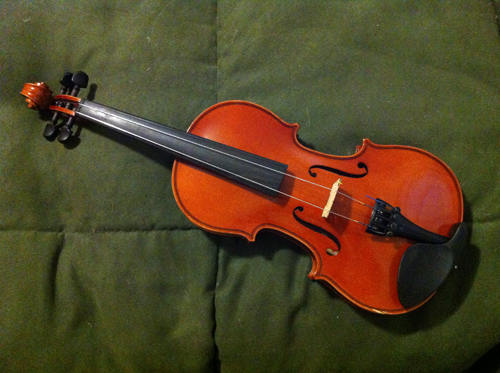 While it did appear to be authentic, the violin had been sadly neglected and was not in playable condition, although it appeared to be repairable.  Our visit became a rescue mission:  much like finding a stray, bedraggled kitten or puppy, we decided it was worth the risk to remove this violin from its current circumstances and give it a good home where it would be well cared for and played.  Given its condition, we were able to bargain the price down by half, and the violin was soon on its way to a new life.
When we first brought the violin home, the pegs wouldn't turn.  We were worried we had thrown away our money, but another violinist suggested that this could be simply the result of storing the instrument in a cold place (like the storage unit we suspect it had been in).  She recommended leaving the violin out in a warm, dry room.  After a few days, the pegs turned!  Things were looking up and we took the violin to the shop for repairs.  The damage assessment from the shop read as follows:
New soundpost
New bridge
Glue back to body again
Neck broken at some point.  Decent repair of that.
The violin had come with a 3/4 bow, which was beyond repair, and a mouldy 3/4 case.
After a week, the violin was ready.  When we picked it up, Thing Two tried out several of their available 1/2 size bows until he found one he liked.  At his first lesson with the new violin, his teacher was very pleased with the results.  It has a nice, rich sound.  With a little effort (and some anxious moments), Thing Two is the happy owner of a good quality violin and a new friend.
Related posts: