Wednesday, September 17th, 2008 by HML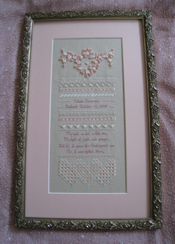 Finally it can be told:  the band sampler was a birthday gift for my niece, who turned eight this week and is preparing to be baptized.  JoAnn's Fabrics & Crafts did a super job on the framing: a lovely antique-looking frame with roses to match the flowers on the sampler; they also added extra spacers to protect the silk ribbon embroidery; and the pink matboard backing shows off the Hardanger band beautifully.
To see the completed sampler, click on the smaller image.  Earlier posts about the sampler in progress can be found in the "sinister craftiness" category.   I began stitching the sampler in June, completed all but the date in July, then added the date and had it framed at the end of August.  It was a lot of fun to learn all the new stitches, and the sampler was a great confidence builder for future projects.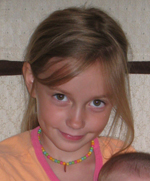 The poem on the sampler is the first verse from "Shine On" by Joseph Ballantyne, a song in our church's children's hymnal:
My light is but a little one,
My light of faith and prayer;
But lo! it glows like God's great sun,
For it was lighted there.
Related posts: