Friday, November 30th, 2007 by The Gimlet
We have been resting on our laurels regarding the basement. Almost all the work was finished in August except for installing carpet on the stairs. I had planned on hiring an experienced carpet installer do this because the cost of having someone else do it was about the same as the cost of the tools, and they would do a better job than I would. After contacting a couple installers and discovering that a job that small gets ignored, and the holidays were coming, I decided to do it myself on Halloween.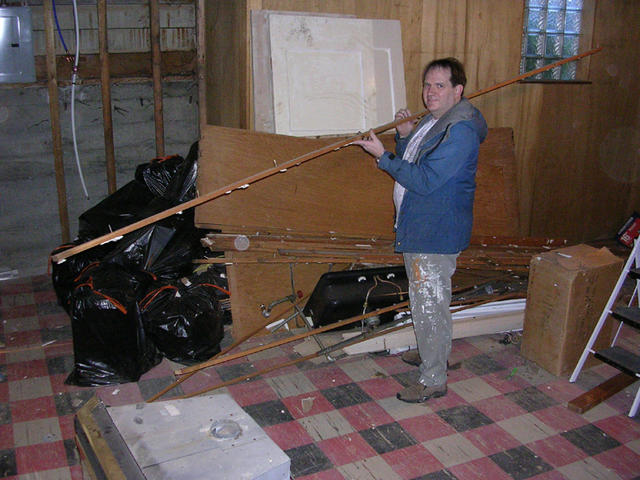 The day after Thanksgiving last year I started the basement remodel. Now, one year later, I summarize.
All in all, it took longer and cost more than I expected.
It took longer:
Without a lot of construction experience (a little bit of construction experience a long time ago.) I expected to complete the entire process in 6 months. It really took 9 months. The last three months I was waiting for carpet layers that never called, so the job was effectively done. The portions of the job that really took longer than I expected were (1) the electrical work, (2) hanging the
drywall, and (3) mudding and taping the drywall. I expected the electrical to take me a week to do, and it ended up taking a month. The drywall I expected to take about two weeks all in and it took three months. Part of this was a lack of time in the evening and on weekends, but a lot of it was me slowly learning how to do the various jobs.
Apparently drywall professionals can hang, mud and tape the 3200 square feet of drywall I did in about a week. They do it with a fairly large crew of people. It took me three months with just help from your usual narrator and Uncle B from time to time. However, it cost about $2000 instead of over $9000. I am not sure what the electrical would have cost me to contract
out, but I know I saved a lot.
It cost more:
I estimated the total remodel to this point would cost me $12,500. The actual cost was $18,938.93. with about $400 more to really get it to where I thought I would be at $12,500.(New florescent lights in the laundry
room need to be purchased and installed.) I could collect receipts and determine exactly where I missed the estimate, but that would take more time than I really want to spend on this.
I did not budget for the garbage. Renting a truck and paying for dumping the basement garbage (between 3-4 tons of debris) ended
up costing $751.96. I did not budget for that at all. Generally, costs for materials turned out to have been going up through the remodel process. The huge run up in housing costs and remodeling made it impossible for me to find help and cost me more in copper and other materials. With the housing market going down, I imagine my materials would cost a bit less today.

In hindsight:
I wish I would have purchased an pneumatic nail gun set first thing. A neighbor let me borrow theirs for the finish work, and it would have been nice to have used a larger one for the framing. Ultimately, I would have liked to have hired out the drywall
entirely. However, you can see from above that I saved an awful lot doing it myself. It was probably worth it to do it myself, but I have wondered sometimes.
I also would have installed baseboard electric heaters in the back bedrooms. The forced air system doesn't seem to get them as warm as we would like. The family room
has the gas fireplace to warm it up. (It is fabulous!)
An average basement remodel cost $53,359 in the Western United States in 2005. Ours cost $18,938.93. I believe our basement remodel was better than average, but for comparison purposes, it looks like we saved $34,420.07.
That is a nice extra wage for 2007! Would I do something like this again? You bet! Relaxing in front of the gas fireplace makes it all worth it.
Related posts: