Monday, June 17th, 2013 by Thing One
2013 Vigil Class, T'Kope Kwiskwis Lodge, Order of the Arrow:  The Vigil Honor is a high mark of distinction and recognition reserved for those Arrowmen who, by reason of exceptional service, personal effort, and unselfish interest, have made distinguished contributions beyond the immediate responsibilities of their position or office to one or more of the following: T'Kope Kwiskwis Lodge, the Order of the Arrow, Scouting, or our Council's Camps.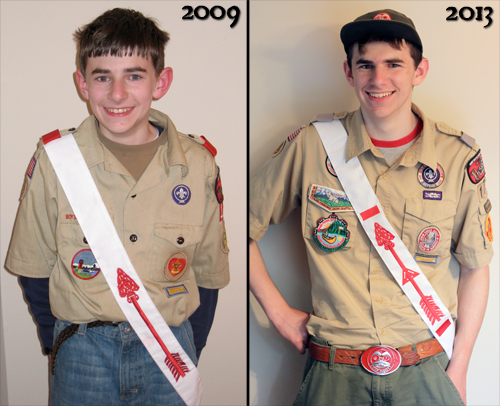 On June 14, 2013, I showed up at Camp Pigott with giant paper heads of a Chapter Member that he made to campaign for Lodge Chief. The Lodge Activities Vice Chief provided us with cardboard with which to make armor. Later, I was sent away to do the Vigil Ceremony. Few people in the Order of the Arrow are selected for Vigil Honor:  The cap for nomination is 2% of the lodge the requirements for nomination are three years of being a Brotherhood member and exemplary service. In the OA I have been a Chapter Chief and a Ceremonialist. The Ceremony entails staying up all night.
After the Vigil Ceremony (Which was, by the way, the first one to involve the new Longhouse), we had a breakfast for all the Vigil members, posed for photos, and played Diplomacy until the Camp Pigott Staff Orientation started. When you're sleep deprived, you can do a lot of things. Taking care of a newborn? Pshh. I got Germany two supply centers in one year and kicked France out of one of mine, being awake for 24 hours! That number made it up to 30.
After my brief stint as co-Kaiser of Germany, the Camp Pigott Staff orientation started. Among the staff were members of my Lodge, six staffers from 2012, and the Camp Director's friends as directors. I was the only person from 2011, but I heard that someone else from 2011 was coming back as well. I am the manager of a newly remodeled Trading Post this year. The Counselors in Training were also at the Orientation. There is also a higher Male-Female Ratio. There are about five women out of probably 30 Staff, but that is a drastic increase compared to one last year and none the year before.
As an 18 year old, I get to stay in the Fancy Adult Cabin, which not only has its own bathroom and some TV's, but it will also have actual Hygiene and a lack of trash on the floor.
The Vigil Ceremony is a great way to conclude my OA activities (although I might go to the September Ordeal, and also the activities two years from now), and I also know I will enjoy my time as Camp Pigott Staff for the third year.
Related posts: