Monday, April 19th, 2010 by HML
Last weekend Team Gimlet drove north to spend a day around Vancouver, BC, and especially to tour the new LDS temple which has been built in Langley.  The Gimlet was a LDS missionary in the Canada Vancouver Mission so it was  exciting for him to see a temple being built in the Vancouver area.  It rained very hard for the drive, and we had to wait for over an hour at the border crossing, but once we were in Canada the rain let up just a little and the temple was not very far from the border.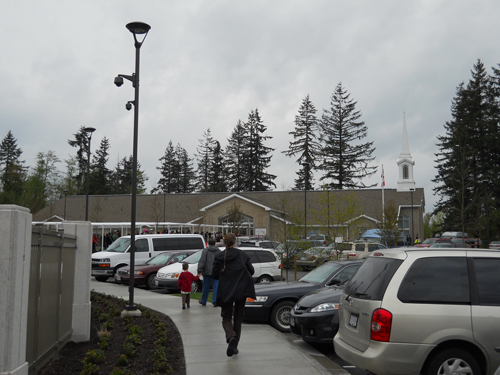 The open house was very crowded, probably due to the weekend, but very well organized.  After volunteers guided visitors to the few available parking places, our first stop was at the ward meetinghouse adjacent to the temple.  We were given a welcome pamphlet and directed into one of many small tour groups.  Before entering the temple we watched a short film about LDS temples in general and the history of the LDS church in British Columbia.
The tours and films are timed so that although there were lines inside the meetinghouse and to the temple itself, those lines move very quickly (something important when travelling with little kids like Thing Two), and in no time we were inside the temple for the main tour.
Photography isn't allowed inside the temple, so do visit the temple's web site (linked below) to see the interiors.  It's a small temple, similar to the Sacramento Temple where Uncle J and Aunt L were married last year, but with a decidedly Northwest color scheme and ambiance.  The welcome pamphlet describes the interior details:
"The interior features beautifully grained hardwood from the west coast of Africa.  British Columbia's provincial flower, the Pacific dogwood, is used as a motif in the decorative painting and intricate carpet sculpting."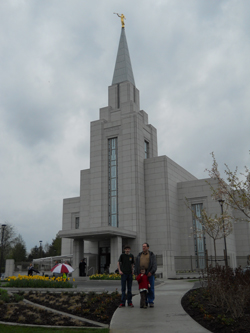 Children might like searching for all the dogwood flowers, which can be found on the door handles, the carpets, painted on the ceilings and walls, and decorative moldings.
Thing Two's favorite room was the baptistry, with its large font and marble floors.  Thing One liked the Northwest nature mural in the ordinance room, and as always the sealing and celestial rooms are the most beautiful and inspiring rooms of the temple.
After the temple tour, we returned to the ward meetinghouse for cookies.  The local missionaries and ward members are clearly so proud of their new temple and are working very hard to provide a special and memorable visit for all their guests.
An early dinner at Mr Pickwick's Fish & Chips finished off our day, and the border crossing back into the USA was thankfully much shorter.
The temple is open to the public for tours daily (except Sundays) through April 24; if you live in the area we strongly recommend making the trip.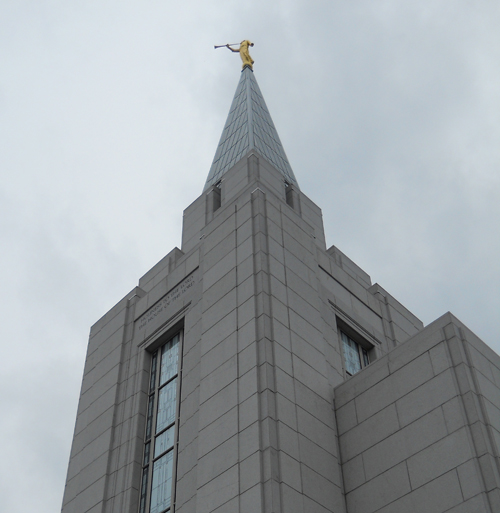 Related posts: