Monday, December 31st, 2012 by HML
This year's Christmas season was much simpler than usual.  Between a second holiday season where the Gimlet is still searching for work and my new Relief Society duties, Team Gimlet had neither the resources nor the time to send cards, bake cookies, or shop for gifts.  I've always heard about families who opt for a service-only holiday season and while finding it admirable, it was a surprise to find ourselves having exactly that experience this year.  It was a joyful and humbling experience to have the opportunity to bring cheer and happiness to others, especially when our own circumstances are similarly reduced this year.
Thing One performed in his school orchestra's annual Hollyberry concert, where the chamber orchestra played Beethoven's Sinfonia No. 7 in D – Allegro.
The Sunday evening before Christmas, we welcomed Santa into our home for an early plate of Hå's cookies and a short visit, as he has done every December since Thing One was born.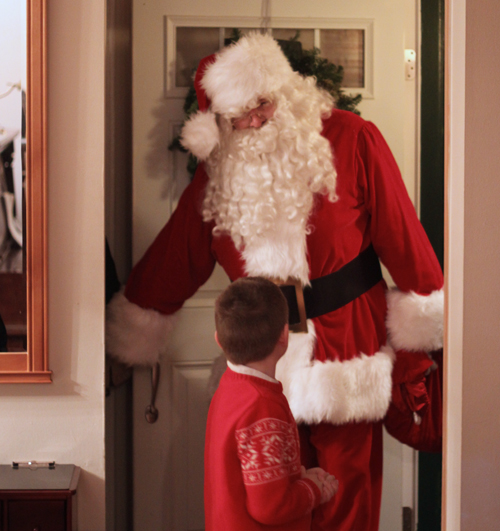 Thing Two has grown progressively more excited about Santa's visit over the years, but he still keeps a respectful distance when Santa is actually in the house.  Note that this year he is using the armchair and his big brother as a buffer.
Santa requested a little holiday violin music, and it is safe to say that Thing Two was much more nervous about playing one tune for Santa than he is when playing a set for a full room.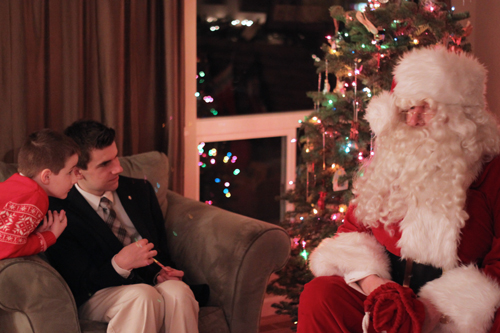 Christmas Eve was the usual family party with plenty of delicious food and lively conversation; we didn't return home until midnight.
Originally we expected that Christmas Day would be unscheduled and quiet, but the Sunday before Christmas, we learned that the LDS missionaries assigned to our congregation didn't have anywhere to go for Christmas.  This looks like a job for the Relief Society President!  And how do you throw together a Christmas dinner on short notice?  Hå offered to sponsor our favorite (and ridiculously easy) holiday meal:  Dungeness crab.  One of the missionaries was from Alaska and his Utah companion had learned to love seafood, so they were as excited about the delicacy as we were.
We joined the crowds at the grocery store on Christmas Eve morning to throw together the rest of the menu before the shops closed and we had to begin the drive south to our own party.  Hå also contributed some Christmas crackers to the festivities, which were a new experience for the missionaries.  Their favorite part of the evening, however, was the time they spent Skyping their families, as Christmas is one of the two times per year that the missionaries are allowed to talk with family.  One missionary chose the desktop and the other used the laptop, so they didn't have to take turns and both could enjoy long holiday conversations.  Next Christmas we will be Skyping or FaceTiming with Elder Thing One from wherever he ends up serving his mission, and we hope his Christmas host family takes good care of him.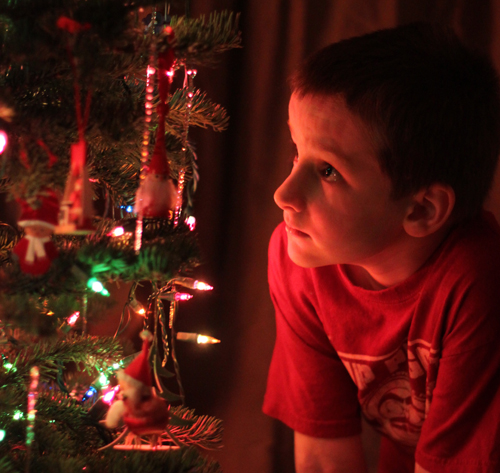 Our New Year's Eve also ended up being more fun than expected!  Hå decided she would like to see the zoo's WildLights Winter Festival and invited us to join her.  The night was cold, but it wasn't raining, which is enough incentive to get outdoors for a good walk.  The light displays were pretty and we're looking forward to doing the WildLights walk again next year.
After dinner at a nearby burger place, we drove Thing Two to a New Year's Eve party where he and his teacher would play together to start the dance.  This was Thing Two's first experience playing for dancing, but his teacher encouraged him to keep his eyes on her and not be distracted by all the activity and noise around him (in Scandinavian folk dancing, the musicians stand in the center of the hall and the dancers move in a circle around them).  He played three tunes with his teacher and managed to keep up, although he was a little tired by the end of the set.  Then he got to watch his teacher play for two more dances, including one tune he is currently learning.
Thing Two enjoyed a cookie after his performance, and he and his entourage (formerly known as Thing Two's parents, but we can see that entourage is in our future, so we're trying to get used to it) visited with the party guests.  After the hosts set the glögg aflame and poured a few fiery ladles into the pot for dramatic effect (Thing Two was asked, "Isn't this better than Harry Potter's Goblet of Fire?"), it was time to drive a sleepy Thing Two home and tuck him into bed just before the beginning of the new year.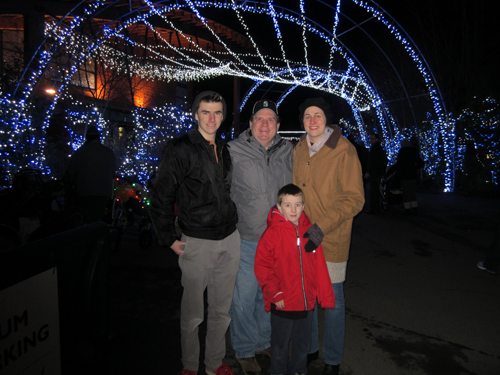 It's been a while since we've managed to take a photo of the entire family, and here we are, all bundled up at the zoo on a frosty New Year's Eve.  When did Thing One get so tall?   For that matter, isn't Thing Two about the size Thing One was when the blog began?
In the spirit of moving onward and upward, best wishes to you and your families for a happy and abundant 2013!
Related posts: