Sunday, February 22nd, 2009 by HML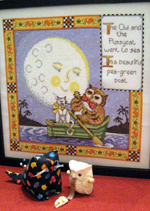 Last spring (May to be exact) I began working on a scene from Edward Lear's The Owl and the Pussycat, as a gift for Thing Two, who loves the poem.   Soon, though, several other bright and shiny projects like my niece's band sampler and Hardanger Christmas presents distracted me from this one.  It also didn't help that I had stitched all the interesting parts, leaving only the moon to do:  a vast expanse of white, and not nearly as exciting as … well, pretty much anything else I could find.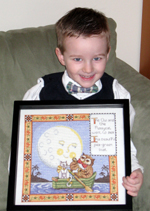 Before I knew it, Owl & Pussycat had become a UFO, a WIP, whatever you call those long-neglected projects.  (I prefer WIP (work-in-progress) because I really, really want to believe I'll finish them some day.)
So I'm delighted to report that I finished Owl & Pussycat this weekend!  Thing Two is thrilled, too:  he watched intently as the last few French knots were stitched and was reluctant to let it go for photos before settling into its place of honor in his room.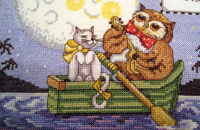 Even though it took so long to get around to completing, I still like this scene quite a bit.  The color scheme is delightful and the characters are cute.  The night sky is all half cross stitches, so it's not as difficult as it might appear; that section was completed much more quickly than the moon.  The backstitched characters and boat, set against half cross stitches and pale moon and sea colors create almost a three-dimensional look.  I added Kreinik pearl blending filament to the stars to make them sparkle; they also "pop" out a little more from the night sky.   Last year when I began this project, I was worried about all the back stitching, but after completing the chickadee tablecloth for Christmas, this back stitching was a breeze by comparison; I finished it in no time.
The design is by Sue Cook and can be found in Cross Stitch Collection, issue 128.  I bought my issue from eBay, and have seen a few offered since then, so it isn't too difficult to find.   Owl & Pussycat is one of a four-part series of nursery rhyme charts by Sue Cook, all of which display the same vibrant colors and charm, and would be great additions to a nursery or to a fan of nursery rhymes.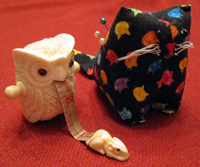 While I'm showing off, how do you like these owl and pussycat stitching accessories?  The pussycat pincushion (which the Gimlet calls "Voodoo Kitty" for reasons best known to himself) was a Christmas gift from a local farmer's market.  Its stuffing includes lavender, so it smells wonderful.  The owl and mouse tape measure (featured in the September/October 2008 issue of Victoria magazine) is carved out of cow bone with an amazing amount of detail — the feathers and talons are especially intricate.
Related posts: