Wednesday, September 10th, 2008 by HML
After the windows and front door were replaced, the Gimlet wasn't kidding about moving a long-procrastinated project to the top of the list:  painting the house.  The weather forecast for the next several days was good, so armed with a paint sprayer he'd bought a few years back, he set to work.
The total job from prep to cleanup took three full days plus two extra hours a few days later to touch up spots and finish the trim.  We'd been advised that for the spray method of house painting, it would take longer to prepare the house than to paint it, which was pretty much the case.   The first day was spent masking and covering windows in protective plastic, followed by three hours to apply the primer coat.  Painting the eaves and walls took up the second day, and the trim and accents were painted on the third day.
Thing One was on hand to help with the primer coat, but school started the next day and he was excused from paint duty. Thing Two was eager to help; armed with his own brush and bowl of water, he "painted" the driveway and back patio.  Half the fun for him was pouring out his bowl, then using the hose to refill.
In a rare and misguided fit of domesticity, I thought it would be a great surprise to bake a cake.  Unfortunately my homemaking had not included cleaning the refrigerator recently, and the first egg broken into the batter exploded with green goo and hydrogen sulfide.  Surprise!  So that's what a rotten egg is like.  Of course all the windows were sealed up with plastic, so
airing out the kitchen, while absolutely necessary, proved to be a challenge.  The patio door was left uncovered so between that one opening left in the house, a large fan, and several hours, the indoors became habitable again.  Later in the week (after buying fresh eggs) I made brownies but a very worried Thing Two retreated to the other side of the kitchen while the eggs were added to the batter.
The paint chips didn't clue us in, but once the accent trim was in place, we realized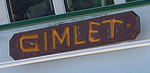 that the color scheme looked rather familiar.  All aboard!
That aside, we're surprised (and pleased) by
how much the new color scheme improves and updates the look of the house.   We also saved a lot of money by doing the work ourselves; the job would have been very difficult using just rollers or brushes but the paint sprayer (plus rollers and brushes to smooth out the spray) made it manageable.  As one project leads to another, we're looking towards renovating the landscape so it will be as nice as the house.
Related posts: