Sunday, December 21st, 2008 by HML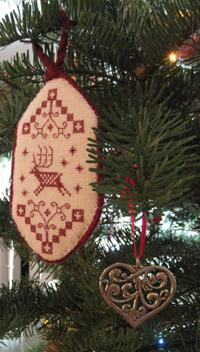 I decided to take a break from the long process of making embroidered Christmas gifts and stitch a quick, small project for myself.  This Norwegian reindeer ornament by Scandinavian Stitches was featured in the 2008 Christmas Ornament issue of Just Cross Stitch magazine.  I would have liked to have tried using the recommended Danish Flower Thread, but the snowstorms made a trip to the embroidery shop impossible, so I used DMC floss and 30 count Weeks Dye Works linen.
My finishing skills still leave a lot to be desired but it's not bad for a first ornament.  Mostly it was gratifying to begin a project in the morning, work leisurely at it through the day, and be able to hang the finished product on the tree just shortly after dinner.  After working long hours every day and night on the last Christmas project (and it's still not completed!) it was a nice reminder that not all projects take a lot of time and energy.
The JCS Christmas Ornament Issue features several ornaments I'd like to try; obviously I won't get around to them until after Christmas at this point but once the big project is done I look forward to relaxing with a few small goodies.
Related posts: