Tuesday, July 10th, 2012 by HML
Disclaimer:  None of these items were given to me by the manufacturers and I have no connection to any of these manufacturers; I bought everything with my own money and received no compensation from the manufacturers, who have no idea who I am.
Now that the travel stories are done, it's time for unsolicited advice as I follow up on some of the gear I brought to France.
I needed a bag for hauling camera gear, the iPad, and other purse-type items, and I wanted it to look more like a purse than a camera bag or backpack — something chic enough for Paris that didn't scream tourist, but sturdy and secure enough to protect my possessions, and would allow quick access to my camera and its lenses.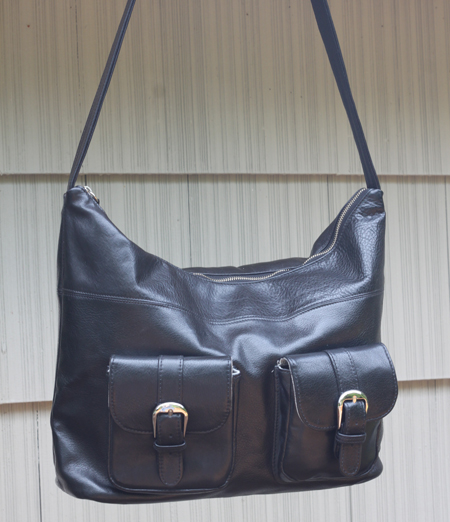 After looking at several different purse/camera bag hybrids, I chose the full grain leather ONA Venice bag.  This is a big bag, and it can hold a lot:
This is pretty much what the inside of the bag looked like when I was carrying it around France.  The iPad fits easily in the back with room to spare, and there are enough compartments for three lenses; I kept my 50mm attached to the camera body and used the extra compartment to hold a small water bottle.  (Aside:  carrying around a water bottle was one of those Really Good Ideas.  I filled it every morning at the hotel and didn't have to purchase extra bottled water during the day.)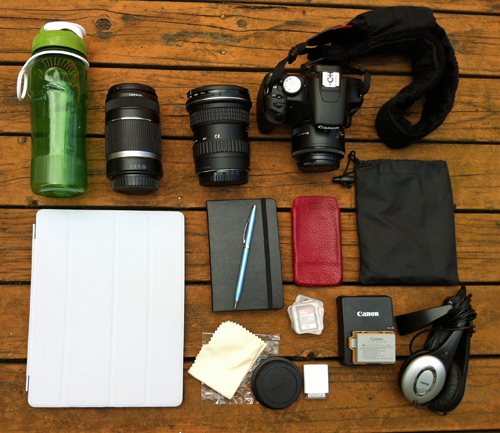 Here is most – but not all! – of the gear I was able to keep in the bag.  Not pictured:  Purse-type stuff like tissues, mints, lip balm, sunglasses, the Paris map given to us by the hotel, and all the cables, connectors, and adapters to keep the iThings charged (imagine those in the black bag on the right).  While traveling on the airplane, I kept a mesh bag with stitching supplies in the compartment with the iPad.  Even with all this, there was still space to stash a scarf or small purchases (e.g. the guidebook I bought at the Louvre fit in the iPad compartment).
Yes, it became heavy as the day progressed, but not unbearably so.  I expected the camera gear would be heavy regardless of the bag, and this bag's shape distributed the weight well; I find it much easier to wear than a standard box-shaped camera bag.  The ONA Venice bag strap is well padded and long enough to wear crossbody style, so given the bag's size and the items that were in it, it was pretty comfortable.
My only gripe with the ONA Venice bag, and it is a very small one, is with the button magnet closures on the front pockets.  These pop open a little too easily for my liking, so I didn't store anything of value in the pockets, even though they are the perfect size for a phone, or a wallet, or a jumble of lens caps, spare camera battery and memory cards.  But even so, I had enough room for everything I needed for our time in France.
I liked the look of the bag when I first saw it, and now I love it for its durability and carrying capacity.  I look forward to taking it on many more travel adventures.
I also bought a camera strap cover before the trip: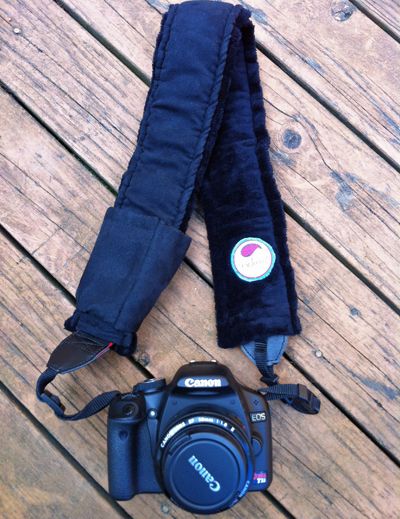 This is a suede camera strap cover with minky fabric backing, plus two pockets for holding lens caps, made by SewTamz.  Her Etsy shop offers camera straps in all kinds of cute fabrics and customization options, but I wanted basic black … surprise, right?  I wanted a camera strap cover because I liked the idea of adding some padding (in super soft minky, no less) to a camera strap I expected to be wearing most of the day, every day, and I liked the idea of covering up the big camera logo on the strap, too.
How was it?  Great!  In fact, most of the time, the padded camera strap cover provided the added benefit of an extra scarf.  When the mistral was blowing especially hard, I was grateful for the warm (and did I mention soft?) cover around my neck, while my scarf was put to use covering my head.  Looking ahead to summer, however, I can see how the strap cover would quickly become uncomfortably hot.  Perhaps a lighter colored fabric would stay cool?  The lens cap pocket did its job, holding the lens cap securely.   Overall I'm very pleased and would especially recommend one of these strap covers for cooler weather photography.
As far as the iThings, their apps and ebooks I planned to take, they all worked perfectly.  Thanks to the free WiFi in the Paris and Nîmes hotels, I was able to upload photos to Dropbox every night for The Gimlet and Thing Two to see in the morning. We were also able to use FaceTime to keep in touch, which helped Thing Two cope with the separation, and it was fun for both of them to take a tour of our hotel in Nîmes.  The RATP and SpeakEasy French apps were heavily used, and the guidebooks were great for reading up on our day's destinations.  In hindsight, I should have taken more quick photos with my phone camera because the ones I did take (with and without the HDR app) turned out well and were a nice way to keep track of fleeting moments (and delicious, elegantly prepared food which vanished off our plates very quickly).
Taking seriously the advice to wear comfortable shoes, my tooled leather Dansko clogs were the only shoes I brought (or needed) for the entire trip.  No blisters, and no sore feet until the end of the next-to-last-day, so I put on a couple of blister bandages as preventative medicine for the Èze excursion, and all was well again.
Finally, I tried suitcase packing cubes for the first time and loved them.  These cubes made it so easy to organize my suitcase: I could pack or unpack very quickly (a useful feature on our many early morning departures), isolate dirty laundry, and the cubes left plenty of room and created padding for all my French shopping.  Packing cubes are available in a variety of sizes and shapes from several different manufacturers.
Related posts: