Monday, February 23rd, 2009 by HML
(With apologies to James Whitcomb Riley and Au Ver à Soie)
After finishing the Hardanger centerpieces for Christmas gifts, I vowed that the next Hardanger piece I stitched would be (1) small, and (2) for me.  One out of two isn't bad.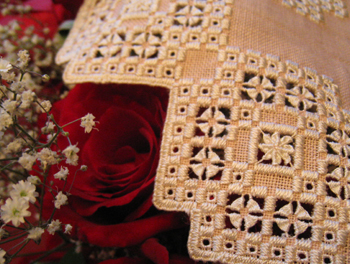 Early January  I had an idea to give a doily as a gift.  Surely a doily would be quicker and easier than a full size centerpiece, right? (Answer:  Not if I can figure out a way to complicate it.)  The interlocking diagonal box design was similar to the Vesterheim centerpiece, and the Maltese crosses were on my must-learn list of basic Hardanger stitches.  I've been wanting to learn how to stitch the beautiful edelweiss motifs found in the center of each block as well.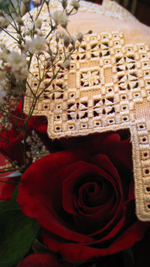 The pattern for this doily can be found in the 1997 Hardanger special issue of Diana Craft Journal.  The chart suggests stitching it on Bellana (20 count) fabric, but I wanted a smaller doily so I used 32 count Belfast linen instead.  The 32 count version measures about 9″ (22.5 cm) square or 11″ (27.5 cm) if measured on the diagonal.
After settling on a piece of Cameo Rose linen, I decided the doily would be especially pretty if it were stitched with silk rather than the usual perle cotton. (Complication #1.)  I used Trebizond long filament silk to stitch the kloster blocks and blanket stitches, and Soie Gobelins (another long filament silk made by Au Ver à Soie) for the eyelets and open work.  It seems like long filament silk finds every tiny dry or rough spot on the fingers and snags, but the final results are fabulous:  the stitches have a gorgeous sheen that can't be duplicated by other fibers.  The fine Soie Gobelins is especially suited to this doily's open work, because the stitches on 32 count linen are so small.  (Complication #2.)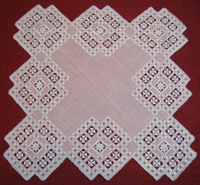 Here is a set of photos showing the doily in progress.  I always like to watch a piece of Hardanger take shape; each step is so simple but as each is added, the project comes together and becomes a work of art.  The doily was completed in one month's time; the kloster blocks and Maltese crosses took the longest to stitch at about a week each.  Each edelweiss was about 20-30 minutes of stitching time (which some might label Complication #3), but since there were only eight, I was able to complete all of them over two days.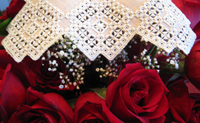 This doily was a lot of fun to stitch (snags aside, I love working with silk) and I think it turned out beautifully.  My not-so-local local needlework shop owner, who guided me through all the different silk options,  couldn't believe it was meant as a gift; when I brought it in to show off she said, "You'll make another one for yourself, won't you?"  Absolutely … isn't that what I promised last time?
(The three dozen red roses in the photos are courtesy of The Gimlet, who knows a good Valentine's Day tradition when he sees it.)
Related posts: