Monday, August 16th, 2010 by HML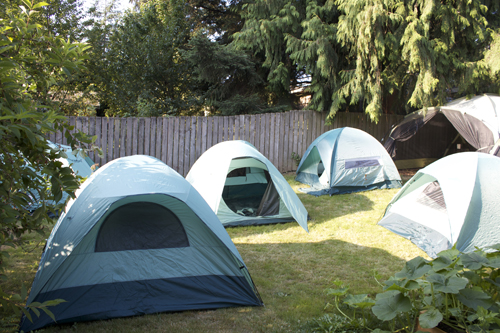 I looked out the window and what did I see?
The back yard has turned into a Scout Jamboree!
The Scoutmaster brought me such a big surprise:
Tents popping up right before my eyes!
Would the shipping container produce a treat
Wet, hot gear that would smell so sweet?
That wasn't really so …
But it seems to me
The back yard has turned into a Scout Jamboree.
(With apologies to Popcorn Popping)
We should probably explain:  after the jamboree, all of the troop gear, which was brand new for the jamboree, was available for purchase at a heavily discounted rate.  As this was a great opportunity to replace and upgrade our home troop's equipment, The Gimlet was able to get a dining fly, five of the two-man tents, and two propane cook stoves.  The patrol boxes were also available; Thing One's Eagle patrol box had already been spoken for, but the Bear patrol box was still up for grabs, so The Gimlet grabbed.
On the last night of the jamboree, the troop packed up most of their gear so it could be easily loaded into the shipping container the following morning.  At about 3:00 in the morning, a large thunderstorm rolled through, drenching all the boys (most of whom had chosen to sleep out under the stars, as their tents were packed), their duffel bags, and the gear.  There was no way to dry out the gear before it had to be loaded, so the wet bags and equipment sat in the shipping container for a week in the 100° Virginia heat before arriving in Seattle last Friday.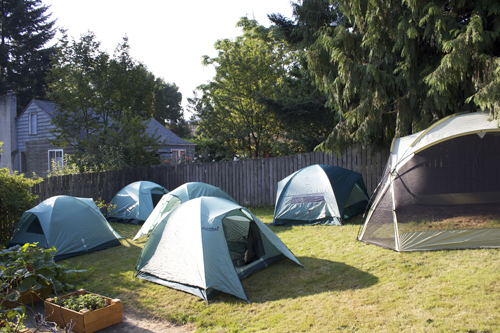 Aren't you glad that these photos are not scratch-and-sniff?
Your Humble Narrator is not usually fond of hot weather, but our recent heat wave is perfect for drying and airing out camping gear, so we hope the sun stays around for the week.
After the Gimlet Patrol was assembled, we asked Thing One, just returned from Camp Parsons, if he would prefer to continue sleeping outdoors, as he has spent nearly his entire summer doing so.  He declined.
Related posts: