Thursday, July 18th, 2013 by HML
After settling into the cabin and a good night's sleep, the first family activity of the day was a brief family gathering where The Gimlet, his father, brothers and brother-in-law conferred the Melchizedek priesthood upon Thing One and ordained him to the office of an elder, an important step in the process to prepare for his upcoming mission.  The Gimlet obtained permission from our Stake President to perform this ordinance away from home.  It was a wonderful opportunity for Thing One's grandfather and uncles to participate, and the experience was a valuable lesson for the younger cousins to learn about the priesthood and how it can bless our families.
Clan Gimlet planned to tour Yellowstone National Park on July 4, and we awoke early in anticipation of long lines at the park entrance.   As it turned out, the entrance and roads were relatively open; the full campgrounds and parking lots indicated that most had chosen to camp overnight in the park instead of drive through.
Today's itinerary began at the West Yellowstone entrance and driving in a counterclockwise loop from the Madison information station to Old Faithful for lunch, then to Yellowstone Lake, and back to the west entrance by way of Canyon Village and the Norris Geyser Basin.  The grandGimlets wanted the family to travel and stop together at each location, and it was challenging to find enough parking spaces for all our vehicles in the full parking lots, but eventually we were all able to fit in.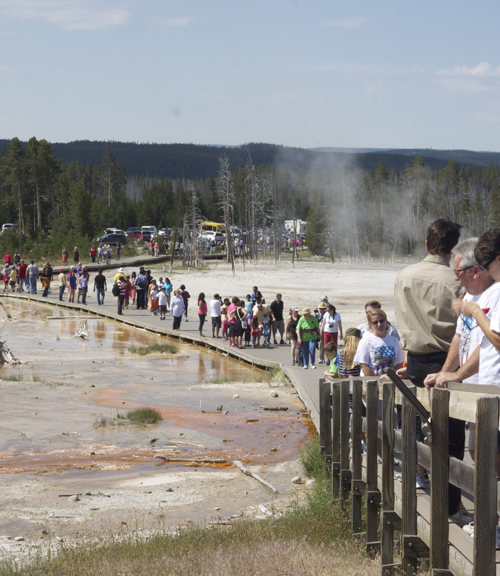 It was just a little crowded at the Lower Geyser Basin.
Related posts: