Tuesday, November 28th, 2006 by HML
"Very true," said Henry, "and this is a very nice day, and we are taking a very nice walk, and you are two very nice young ladies."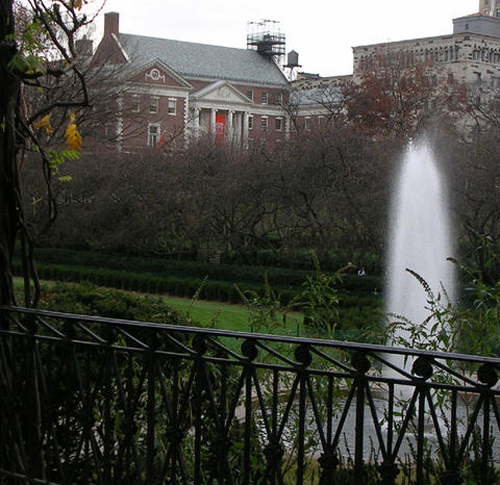 Kelley and I both had most of the day to sightsee before returning home, so on this brisk, clear Sunday morning we walked north along the Museum Mile. Sadly, the Guggenheim is covered in scaffolding so it was not as impressive as it could have been. We stopped in at the Museum of the City of New York, an uncrowded and interesting little museum (and free on Sunday mornings!) which gave us an overview of some aspects of the city's history. The maritime and theater exhibits were especially detailed and fascinating.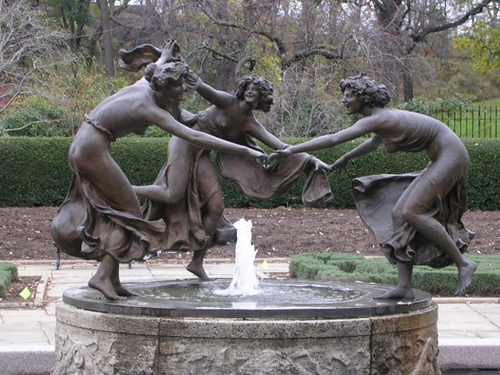 After touring the museum, we decided we needed our own Beechen Cliff and corresponding study of the picturesque, so we walked about a block to Central Park's Conservatory Garden, bordered by the Vanderbilt Gate. We could tell that the garden must be stunning at the proper time of year, but mid-November only a few roses tenaciously clung to their bloom. Nevertheless the gardens were lovely and peaceful. We found a pair of crabapple alleés which would have pleased Eleanor Tilney — in a melancholy way, of course. We continued south through the park past the reservoir, back towards the Metropolitan Museum of Art.
There wasn't enough time to attempt more sightseeing, so we walked back to our hotel, bidding a final, fangirly farewell to Theater Ten Ten on the way. After a short wait in the lobby, Valancourt the Super Shuttle driver made his much-anticipated entrance and I was spirited off to Udolpho Newark. Luckily, I was the first passenger and rode shotgun on an informal tour through Manhattan. While gawking at the shops, skyscrapers, Grand Central Station, Times Square, and Broadway, it became apparent that we had confined ourselves to the sedate, tranquil part of town. The airport wasn't too crowded, and joy of joys, there was an empty seat next to mine on the plane. As a certain airline has, shall we say, a rather relaxed attitude towards returning baggage to its passengers, I arrived home around midnight.
This little getaway was so much fun. Short, but we made the most of our time, thanks to the advice of the local Pemberlians. Always wonderful to bask in the radiance that is the Virtue Queen, if only for a brief, shining moment. Kelley and I enjoyed the best company with fine conversation, and while we frequently chose to run mad, neither of us fainted.
Related posts: