Tuesday, December 4th, 2012 by HML
Late one night after Thanksgiving, we heard a scratching sound inside the bedroom wall.  Not a good noise!  The next day, The Gimlet inspected the roof and couldn't find any holes.  We had pretty much justified the scratching as cat noises that echoed strangely in the house as if they were in our wall (but of course there really wasn't anything in our wall, right?), but The Gimlet figured he'd better check the attic just in case.  As he opened the trap door, he was greeted by a shower of droppings:  we had houseguests.
A little reggae soothes the nerves
A second outdoor inspection turned up a very small, hard to find hole in the roof … but it was big enough.  The exterminator confirmed that we are hosting a thriving population of rats in the attic, who have depleted our insulation and filled the space with their droppings.  He did not tell us how many rats he estimated were in the attic, but he set ten traps and made an appointment to return in one week.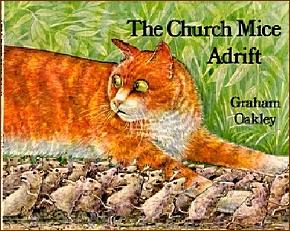 Recommended Reading:  The Church Mice Adrift from the Church Mice series by Graham Oakley.  This children's picture book series about Arthur, Humphrey, long-suffering church cat Sampson and all the other mice who live in the Wortlethorpe Vestry is packed full of adventure and humor.  The super-detailed illustrations are a hilarious treat.  In Adrift, the mice and Sampson are forced out of the vestry by a pack of rowdy rats and must think up a cunning plan to get rid of the squatters and win back their home.
Meanwhile, Chinook and Nanaimo have been oblivious to the party in the attic, focusing their attention on the Christmas tree.  They compete to sit under it:  usually Nanaimo is clever enough to lure Chinook away from the tree by playing with a squeaky toy, and when Chinook runs over to investigate the noise, Nanaimo quickly takes his place under the tree.  Lately Chinook has been taking the low road to secure his territory: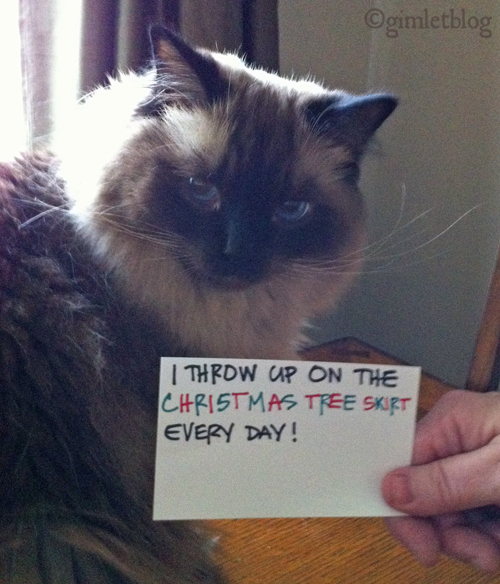 Related posts: