Monday, November 19th, 2012 by HML
Thing One's high school is known for its world-class drama department, and one of the department's great traditions is its annual fall festival of student-directed one-act plays.  Thing One was very active in drama when he was a middle school student, participating in almost every play, but aside from taking drama classes it was challenging to fit after-school rehearsals and performances into his high school schedule.
Now that Thing One is in his senior year, he had time to audition for and participate in Dramafest.  He was chosen for Garrison Keillor's one-act play, The Prodigal Son, and played the part of the narrator (aka Garrison Keillor).   Bopa was a great fan of Garrison Keillor, never missing the Writer's Almanac or Prairie Home Companion, so he would have been especially pleased to watch his grandson's performance.
After several weeks of after-school rehearsals, it was time for Dramafest!  Two or three plays were performed after school every day for one week.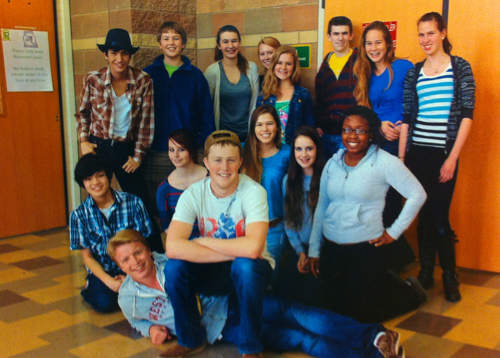 Friday night was "Best of the Fest": repeat performances of the top-judged plays and an awards ceremony.  The Prodigal Son won awards for costume design and best direction of a large cast.  The cast had a lot of fun and celebrated their success with a pizza party.
Related posts: