Monday, July 15th, 2013 by HML
On Saturday we drove to Huntsville to tour the ancestral family home where Your Humble Narrator's grandfather was born and grew up.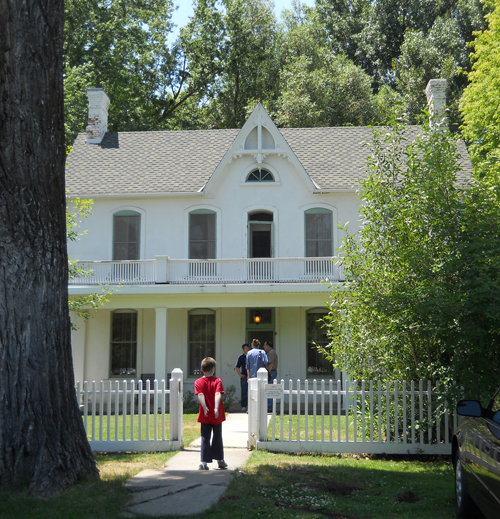 We toured this home five years ago, and the tour hasn't changed since then, but it is fun to reconnect with the cousins who are leading the tour and share family stories.  Our tour guide today was a second cousin, and a chance comment led him and The Gimlet to spend nearly the entire visit chatting about guitars and music.  Thing Two was utterly bored, but the rest of us enjoyed the lively conversation!
After leaving Huntsville we treated ourselves to a late afternoon meal at Maddox.  Every time we travel to Utah, we sing the praises of this classic steak house, and it always comes through with hearty meals that inspire fond memories until the next time we can visit.  Thing One ordered their sarsaparilla, which we all (even picky Thing Two) sampled and enjoyed, and we chose a chocolate cream pie to take back to Logan.
Monday we drove south to spend the afternoon with Your Humble Narrator's cousin, who had a special treat for Thing One:  he got to try on and model his great-great grandfather's Utah Militia uniform, which is over one hundred years old and in fabulous condition.
Related posts: