Wednesday, January 30th, 2013 by The Gimlet
When Thing One was in Cub Scouts we would go to the Mountaineers' Lodge at Snoqualmie Pass for a winter camp each year with the pack. A short time after our last campout there as a Cub Scout, the Mountaineers Lodge burned down!  The Pack began a new tradition of going to the Mountaineers' Lodge at Mt Baker.  After several years as Scoutmaster I finally have a good supply of winter camping gear and packing was easy.  With the three hour drive (!) Thing Two prepared to travel by selecting shows to watch on the portable DVD player. (How did children survive long drives before shows in the car?)
We managed to leave Seattle at 5:00 p.m. and drove in the rain. About 15 miles from our destination the rain turned to snow. Mt Baker regularly has some of the deepest snow in the world.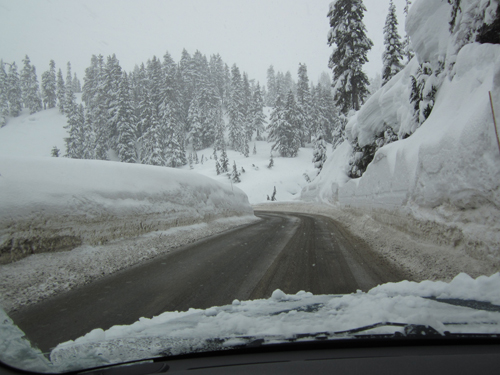 When we went there was 149" (over 12 feet) of snow at the lodge. It was dark so we quickly took our sleeping bags up to the lodge for a night's sleep.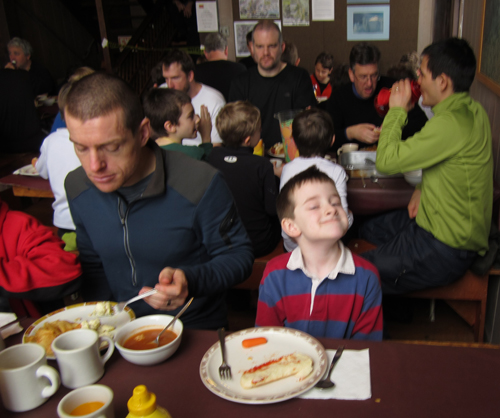 After the night's sleep we had breakfast and then put on our snow gear to play! The adults had built a wonderful luge run for the inner tubes. Thing Two went down the run twice. He described it as "crazy":
"I went down so fast, I went sideways and backwards, rolled a couple of times and then finished."
Two runs and then back to the lodge for warming up. Much to Thing Two's excitement, one of the other dads had a map out for planning a boat trip.  Thing Two couldn't resist the opportunity to discuss geography and maps with a new victim.
The impressed dad asked Thing Two what his favorite street in Seattle was (Yesler Way, because it crosses the entire city), and recommended other streets for exploration.
After lunch, and clean up by our den, we hopped in the car for the three hour ride back home.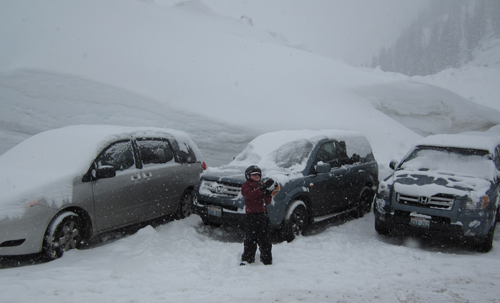 A fun camp out that was enjoyed by all. (You have to start the Cub out slow to keep them wanting to come back for more!)
Related posts: